Welcome to the San Diego Chiropractic Group
Chiropractic, Acupuncture, Massage, Sports Injuries, Auto Accident Specialists
858.560.5022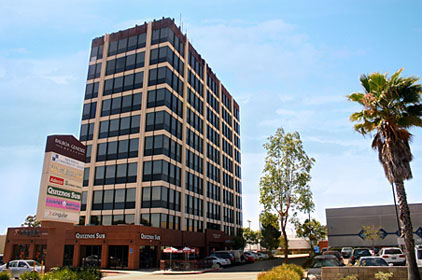 5252 Balboa Ave. Suite 901, San Diego CA 92117
Corner of Balboa and Genesee Avenues
San Diego Chiropractic Group is
centrally located in the San Diego
community of Clairemont, at the corners
of Balboa & Genesee Avenues.
San Diego Chiropractic Group offers chiropractic, acupuncture, and massage therapy
in a modern professional office setting with views of
downtown, Mt. Soledad, Pacific Beach, and the ocean.
Our team of doctors and therapists work together to
provide a holistic approach to healthcare for the
treatment of neck and back pain, joint pain, headaches,
auto accident injuries, sports injuries, scoliosis, sciatica,
and many other musculo-skeletal complaints.
Our chiropractors have over 40 years of combined
experience and our office has been serving the
community since 1971.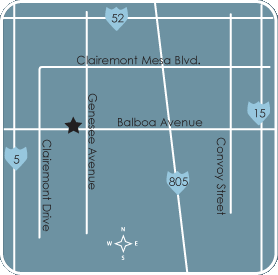 We accept HMO, Medicare, Med-Pay, most PPO plans,
and attorney liens. We also offer affordable cash rates
for all our services. For benefit information for services
at our office, you may call ahead with your insurance
information, and we can usually respond within 24 hours
with information on your insurance plan coverage.
A modernized office, we use an electronic health
records system and touch screen check-in. Most of
your initial intake paperwork can be accessed and
completed online at our web site www.sdchirogroup.
com and then forwarded to our office prior to your
first visit. We also offer complimentary text or email
reminders of your appointments.
San Diego Chiropractic Group is one of the few San Diego chiropractic offices that
remain open for late evening appointments and have
Saturday hours. We can often accommodate same day
appointments for new patients or follow-up visits.
Se habla eSpaÑol. Call 858-560-5022
to speak to our front desk staff.